How to calculate the test result of formaldehyde content according to JIS L1041

C-Formaldehyde content in 1g sample, μg/g
KA-Concentration of standard formaldehyde solution, μg/mL
A-Measured absorbance of test specimen
A0-Measured absorbance of blank reagent
AA-Measured absorbance of standard formaldehyde solution
m-mass of test specimen, g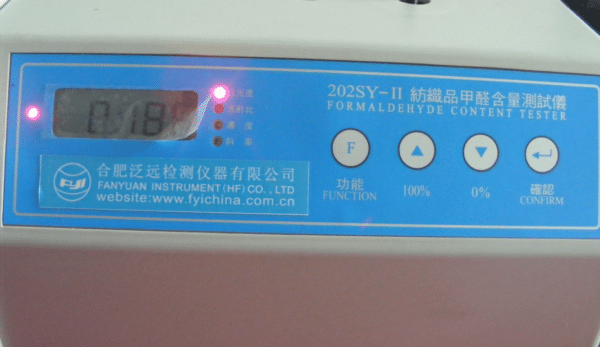 The customer needs to prepare the standard formaldehyde solution according to JIS L1041 by himself.
Measure the absorbance of standard formaldehyde solution as the same way to measure the absorbance of test specimen and blank reagent.
The customer can get from the absorbance value on the formaldehyde tester directly; when he gets three absorbance values of test specimen, blank reagent and standard formaldehyde solution, just need to calculate the formaldehyde content according to the above equation.
Press "FUNCTION" button on the formaldehyde tester until the first LED lamp (吸光度) lights; when the first LED lamp lights, the reading displayed on LCD is the absorbance value. Or the customer can get the absorbance value on the test software.