Additional weight of Laboratory Wringer Padder
Additional weight of Laboratory Wringer Padder
DW2010A Lab Wringer/Padder :
The load between two rolls is supplied by the lever and dead weights.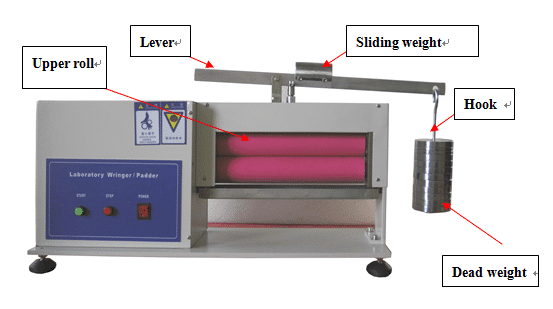 | Item | Hook | Dead weight 1 | Dead weight 2 |
| --- | --- | --- | --- |
| Mass | 0.2kg | 0.23kg | 0.453kg |
| Quantity | 1 piece | 2 pieces | 10 pieces |
The ratio of the lever is 1:10.
The mass of lever is 1.5kg
The mass of upper roll is 3kg
The mass of sliding weight is 1kg
This instrument conforms to ISO 18696 Textiles-Determination of resistance to water absorption-Tumble-jar absorption test and AATCC TM70 Water Repellency: Tumble Jar Dynamic Absorption Test.
The load is required to be (27±0.5) kg in ISO 18696 and (27.2±0.5) kg in AATCC TM70 on fabric.
The load is applied in the following way.
Position the sliding weight on the pivot;
Hang the 2kg hook onto the level and then one piece of 0.23kg weight and one piece of 0.453kg weight;
So the total weight (including the lever, the hook and the dead weights) is 2.383 (5kg+0.2kg+0.23kg+0.453kg);
Because the ratio of lever is 1:10, the load supplied onto the upper roll is 83kg;
The load supplied onto fabric is 83kg (23.83kg+3kg upper roll);
The load of 26.83kg is within (27±0.5) kg and (27.2±0.5) kg.