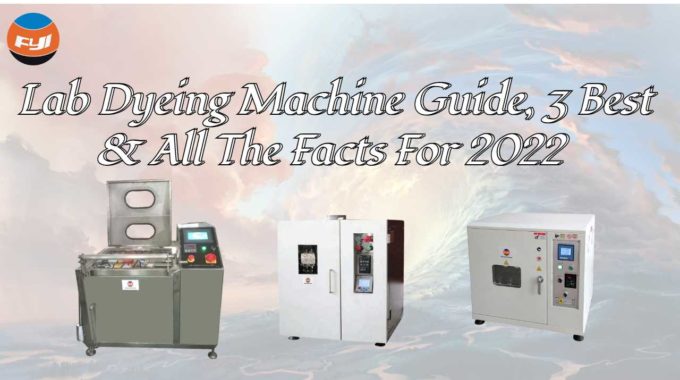 Lab Dyeing Machine Guide, 3 Best & All The Facts for 2022
Lab dyeing machine is the equipment needed before going for a bulk production directly. Through a certain amount of testing on the laboratory dyeing machine, we can get the dyeing formula of different materials, which is of great help for saving cost. We have introduced some lab dyeing machines from FYI in this article.
What is the lab dyeing machine?
Lab dyeing machine is one of the equipment in dyeing lab. It's short for labrotory dyeing machine. In contrast to normal dyeing machines, lab dyeing machines are more suitable for small batches of dyeing.
This dyeing machine can produce a small number of staining samples at a low price. It is widely used in dyeing laboratories, fabric manufacturers for sample dyeing. So that the staining results could meet their expectations. Without labrotory dyeing machine. They need to pay more cost for a right dyeing formula.
There are many lab dyeing machines for dyeing test. Different types of machines may have different features and specifications.
Here are three types of labrotory dyeing machines and their applications.
RHS series IR lab dyeing machine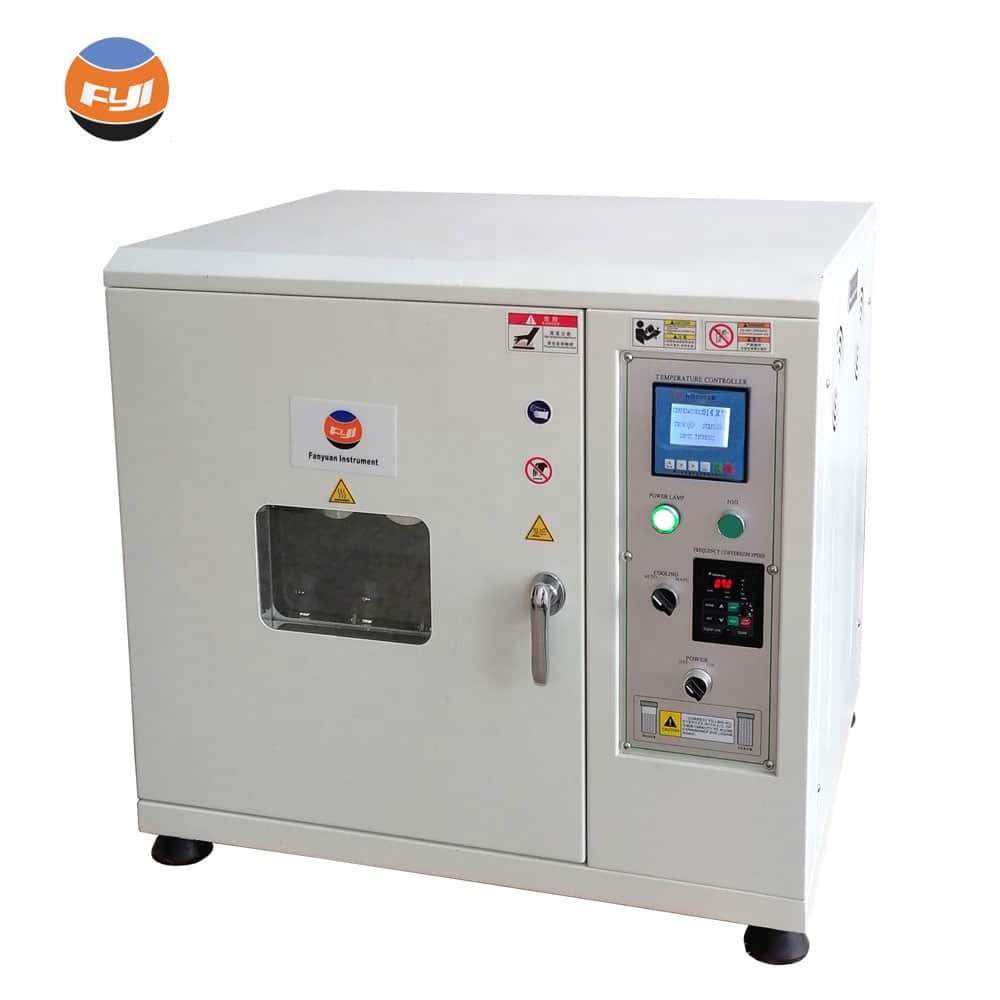 Introduction
IR lab dyeing machine stands for Infrared labrotory sample dyeing machine. The machine get this name due to the use of infrared heating for heat transmission. It's suitable for dyeing knitted fabric, woven fabric, yarn, cotton, fiber, zippers, shoes and so on. The machine not only suit for high temperature dyeing , but also work for washing fastness test. This can be said to be a very practical dye lab equipment.
Feature
Used for textile dyeing sample at laboratory scale.
Used to determine the standard of color fastness to washing.
Heater Infrared system.
Removable dye temperature sensor for ease of use.
High temperature accuracy, minimal dyeing temperature set is not less than 135°C.
Programmable micro processor controller to set parameters such as temperature and time (with capacity to store such parameters).
Touch screen LCD monitor which displays conditions or parameters such as desired dyeing parameters, programmed temperature, actual parameters during process, graphical representation of temperature and dyeing process duration.
There is a mounting bracket for the dye cylinders that rotates around the main horizontal shaft of the machine. The brackets must be able to accommodate 24 cylinders of 150 ml, cylinders of 300 ml, and 6 cylinders of 500 ml (without changing mounting apparatus).
Air cooling circulation system.
There is a container (basket) for cylinders for proper storage .
The machine must be made of non-corrosive, non-scratchable, non-corrosive material. The door must be transparent so the dyeing process can be observed.
Wheels attached to the machine for mobility.
There is a safety sensor to stop the machine/ process when the machine door is open.
There is an automatic warning system and an alarm when the process is completed.
Key specification
| | |
| --- | --- |
| Liquor ratio | Min. 1:5 |
| Beaker capacity | 300ml |
| Heat power | 4*1.2kW |
| Cool fan power | 200W |
| Drive motor power | 370W |
| Temperature range | RT~135℃ |
| Temperature control accuracy | thermal static ±0.5℃ |
| Temperature control speed | 0.1 – 9.9 ℃/min |
| Temperature measuring component: | Pt100 platinum heat resistance. |
| Programmable function: | Programmable technology number 100(0—99), with 100(0-99) programmable steps per technology. |
ACCDYER series lab dyeing machine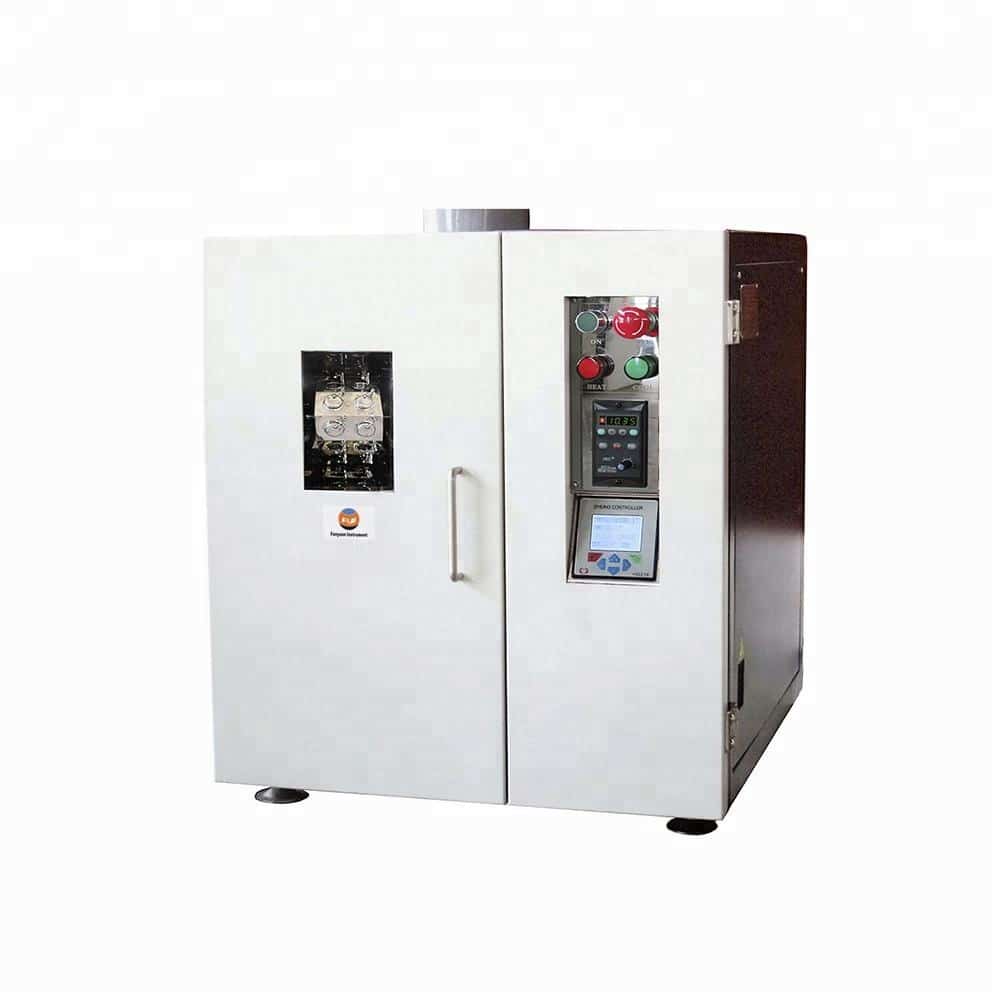 Function
This type of lab dyeing machine is a "built-in electric heating, built-in oil heat conduction" equipment with a number of patent technology. It has all the advantages of "oil thermal conductivity", but also has the characteristics of simple operation, energy saving, accurate temperature control, very low bath ratio, can dye large volume samples. The labrotory sampl dyeing machine has been recognized as a really perfect and practical dyeing lab equipment by the majority of users since its birth.
Characteristic
Energy saving and environmental protection
The maximum power consumption is 2KW, and air cooling is used for cooling.
Strong and durable
The whole machine is made of stainless steel. More over, it has the self-return cup buckle which can be operated with one hand.
Accurate temperature control
Built-in oil thermal conductivity to achieve accurate temperature control effect, with very good consistency and reproducibility.
Unlimited test
Different bath ratio, different bath quantity test can be the same batch test or separate at any time.
All-in-one
Temperature control range from room temperature to 135℃, common at room temperature and high temperature. What's more, it can do constant temperature sample and temperature control test.
Low bath does not spend
Bath ratio can be low to 1:5 also not easy color flower. Dye up to 50g sample (500CC dye cup).
Simple installation
Connect to household single-phase 220V power supply for use.
Security
Double overtemperature protection. Namely computer over temperature alarm and over temperature power off protection.
Good compatibility
Optional dosing cup lid for multiple dosing. Implement accurate process test.
Intelligent centralized control
The computer can be connected to centralized dyeing control. So that it can be used to realize intelligent and informationized dyeing of sample samples.
Specification
| | |
| --- | --- |
| Lowest liquor ratio | 1:5 |
| Temperature range | RT~135oC |
| Temperature accuracy | ±0.5oC |
| Heating mode | Electromagnetism heating |
| Heating rate | 0.2~3 oC / min |
| Programmable dyeing process | 100 programs, 100 steps for each program |
| Cooling mode | Air cooling |
| Speed | 0-50rpm, adjustable |
| Power Supply | AC220V±10% 50HZ/60HZ |
| Environment requested | Temperature: < 50℃, Humidity: 60% ~ 80%RH and ventilated |
JR 350 Jigger lab dyeing machine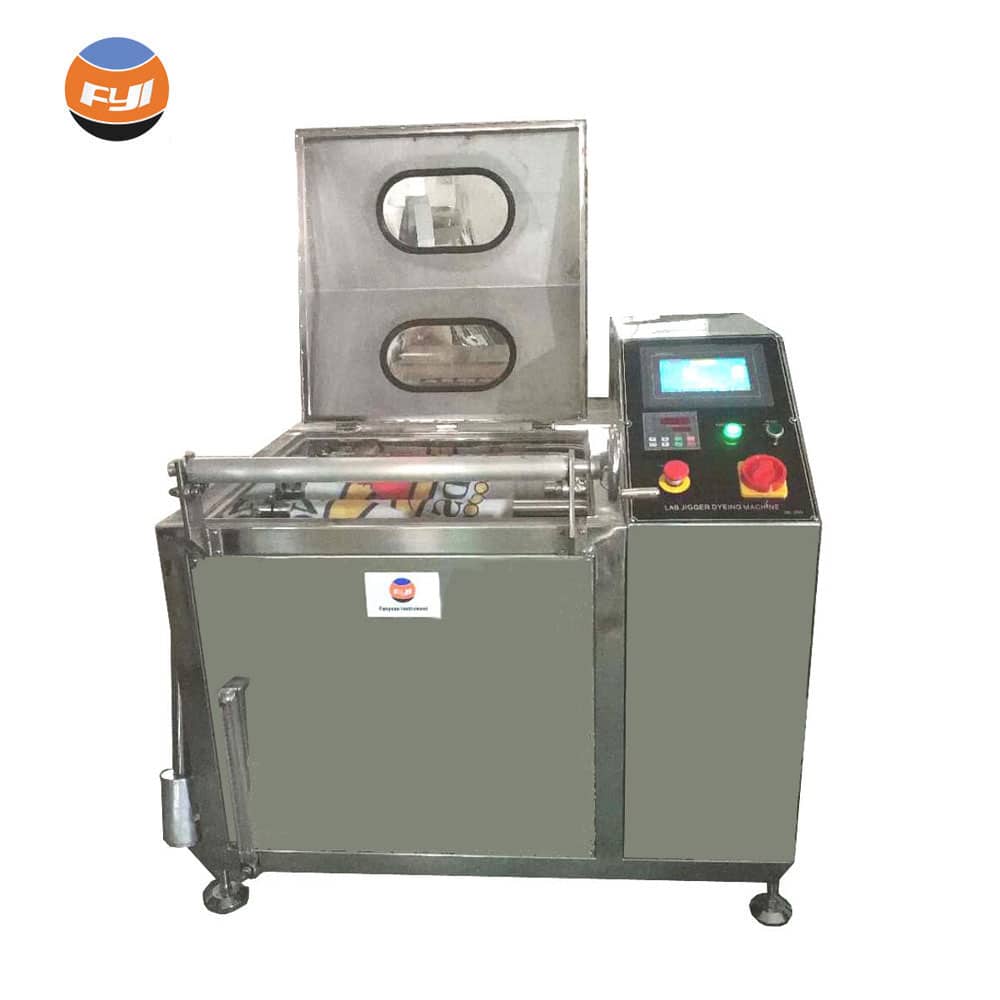 Working principle
As a dyeing lab equipment. JR 350 series dyeing machine is suitable for cotton, linen, viscose, chemical fiber and other fabric dyeing test. When dyeing, jigger lab dyeing machine at a certain temperature. The fabric is rolled on two main rollers. In the dyeing tank, the fabric is inverted from the front roller to the back roller. And then from the back roller to the front roller. So that the fabric is immersed back and forth in the dyeing tank to achieve the final dyeing effect.
Features
Operation interface
The machine uses color touch screen man-machine interface. So that it easy to operate. With programmable function, it also convenient for users to preset dyeing process.
Constant cloth speed
There are PLC and speed measuring system to realize the constant line speed winding dyeing of fabric.
Control part
Industrial programmable controller PLC have high reliability and strong anti-interference ability.
Dyeing tank
With imported SUS304 stainless steel structure, the machine can be durable.
Key specifications
| | |
| --- | --- |
| Roller diameter | 60mm |
| Roller length | 594mm |
| Effective fabric width | 500mm |
| Batch diameter | Max.200mm |
| Temperature range | Room temperature~98℃ |
| Temperature accuracy | ±2℃ |
| Heating method | Electrical heating |
| Heating power | ≤6KW |
| Linear speed | 0.5~8m/min |
| Fabric tension control | Controlled by electronic controller, assisted by the tension frame |
| Cooling method | Natural cooling |
There are many lab dyeing machines for dyeing test. Before buying a lab dyeing machine, it is most important to check if it is suitable for your dyeing process, sample and dye.