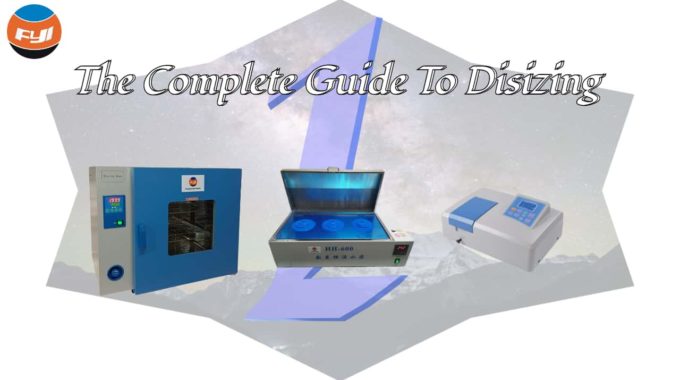 The Complete Guide to Desizing-1
In textile dyeing-finishing production, there are many factors influencing the dyeing-finishing result due to the multiple steps. Desizing is an important process before dyeing-finishing, the desizing results directly affect the inner and appearance quality of fabric dyeing and printing.Therefore, how to choose desizing agent and judge whether desizing process can meet the requirements is particularly important.
Sizing (process before desizing)
Weaving is a process of repeatedly forcing the yarn to move.In order to prevent or reduce yarn breakage during weaving and improve work efficiency, the yarn is treated with sizes to form a film on the yarn surface, so as to achieve the purpose of reducing hairiness, wear resistance and increasing strength.
In the past, it was generally believed that the purpose of warp sizing was to increase the yarn breaking strength, maintain the yarn breaking elongation and improve the wear resistance, so the main quality indexes for the inspection of warp sizing yarn in textile mills were the strengthening rate and elongation retention rate.However, in recent years, the objective of warp sizing is wear-resisting and hair-reducing, so adhesive force, wear-resisting times and hair-reducing rate have been used to evaluate warp sizing effect.
After sizing, the size penetrates into the fiber, and part of it is attached to the warp surface. While improving the yarn performance, the size contaminates the dyeing-finishing processing fluid, hinders the chemical interaction between fiber and dyeing chemicals, and makes dyeing-finishing processing difficult. Desizing process is required to remove the sizes.
Desizing
This is an important process before dyeing-finishing, the desizing results directly affect the inner and appearance quality of fabric dyeing and printing, such as soaping color fastness and color brilliance.In order to better understand the desizing process of fabric and evaluate the desizing degree, it is necessary to measure the desizing rate of fabric accurately as soon as possible.
Identification of sizes
In order to choose desizing agent and desizing process, we must understand the sizing condition of fabric.
Introduction of commonly size
Natural sizes: starch, seaweed glue, gum, etc.
Starch properties: (1) acid decomposition, (2) alkali stability, swelling, (3) oxidant decomposition, (4) starch decomposition enzyme decomposition.
Chemical sizes: cellulose derivatives such as hydroxymethyl cellulose (CMC), polyvinyl alcohol (PVA), polyacrylic acid, polyester, etc.
PVA properties: (1) stable to acid and base, viscosity does not decrease. (2) it is degraded by oxidant. (3) wide applicability, good compatibility.
Identification
(1)Test principle
ifferent sizes encounter unique color reagent will appear specific color, for example, starch interacts with iodine to form a blue-purple complex; in the presence of boric acid, PVA interacts with iodine to form a blue-green complex.So we can distinguish the sizes on the fabric by using these specific color reagent.
(2)Solution preparation
①Iodine test solution: weigh 1.3g iodine and 2.4g potassium iodide, dissolve in water, dilute to 1L, shake well.
②Iodine boric acid test solution: 0.13g iodine, 2.6g potassium iodide and 4.0g boric acid are dissolved in water in sequence, and diluted to 100mL.
③Potassium dichromate test solution: dissolve 11.88g potassium dichromate in 50mL water and add 25mL concentrated sulfuric acid while stirring.
④Sodium hydroxide test solution: dissolve 30g sodium hydroxide in 70mL water.
⑤Cationic dye: weigh cationic brilliant blue RL (or cationic red 2GL)0.25g, dissolve in 1L water. Adjust PH value to 6~7.
(3)Test and determination
①Drop 1~2 drops of iodine test solution on the tested fabric, dark blue indicating starch or PVA.
②Drop 1~2 drops of iodine – boric acid test solution on the tested blank cloth, purplish red indicates PVA.
③Drop 1 drop of potassium dichromate test solution on the tested fabric, and immediately neutralize with 3 drops of sodium hydroxide test solution. After 5s, rub the stain with a glass rod, and the one with brown color indicates PVA; Yellow or yellowish green indicates starch.
④After confirming the existence of PVA slurry, drop 1 drop of iodine-boric acid test solution on the tested blank cloth and dry it in air. Drop 1 drop of distilled water in the middle of the spot stain, and 10 seconds later, there is a wine halo around the spot stain, indicating that it is partial alcoholysis grade PVA; The complete alcoholysis PVA did not appear halo.
⑤A small piece of tested gray cloth was cut and put into cationic dyeing solution, dyed at room temperature and constant agitation for 1min, the cloth sample was taken out and washed with water for 1min, then the cloth sample was washed with 10% acetic acid and 0.2% non-ionic surfactant solution, and then washed with water for 1min before drying. Dye stains on the warp show that the sizing material is polyacrylic acid or polyester.
Desizing agent
The role of desizing agent is to make the size on the fabric can be removed as far as possible to ensure the smooth progress of the following process. Fabric desizing process according to the sizes to decide which desizing agent to choose. Generally can be divided into alkali desizing, alkali acid desizing, enzyme desizing and oxidation desizing.
Alkali desizing
PVA – based mixed sizes (containing starch) and PA type sizes with this method. A method for removing starch, polyvinyl alcohol and other sizing materials from fabric with dilute solution of caustic soda. Desizing rate is about 70%. This method is safe, reliable, low cost, wide applicability, is one of the commonly used desizing methods.Principle: starch, PVA and other sizes in alkali solution easy to expand, so that it becomes a sol state, reduce the adhesion with fiber, so as to facilitate water washing sizes removal.
Alkali-acid desizing
A method of removing size from fabric by treating it first with alkali and then with acid. After alkali desizing, fabric has to remove most of the sizes, but base sizes viscosity is higher, often part of the sizes will be attached on the fabric, processed with dilute acid solution at this moment, not only can decrease the residual starch hydrolysis, improve the effect of desizing, also can remove minerals on the fiber, improve the fabric whiteness and absorbent.
Enzyme desizing
A method of removing starch size from fabric using amylase. Amylase commonly used for desizing malt amylase, pancreatic amylase and bacterial amylase, etc., each has the best use conditions, must strictly control pH value, temperature and other technological conditions.
Oxidant desizing
Mainly used for desizing PVA and its mixed sizes. The size on the fabric is removed by oxidation decomposition of oxidant. Oxidant desizing efficiency is high, widely used, not only can return starch size, but also can return other chemical sizes and mixed sizes. However, attention should be paid to the control of process conditions, otherwise it will damage the fiber.
No matter what desizing process, its principle is to make the slurry polymer compound into low molecular compound, and make the slurry insoluble material into water soluble material, easy to remove. Desizing, in addition to the use of acid, alkali, enzyme and oxidizer, in order to speed up the desizing speed and improve the desizing effect. It is necessary to add auxiliary agents, this kind of additives known as desizing additives.
Determination of desizing rate
Desizing agent and desizing process whether to meet the requirements, desizing rate can be used to judge. Desizing rate refers to the proportion of the size of the fabric after desizing removal of the original size, so as long as the determination of the size of the fabric before and after desizing, you can calculate the desizing rate.
Qualitative method
The qualitative method is the same as the identification method of the size on the fabric, according to the color reaction of the size on the color reagent, so as to determine whether the fabric is still on the size. Qualitative method can only determine the size of the material, can not determine the specific concentration, can not measure desizing rate. The desizing effect of starch size can be judged by TEGEWA method. This method is suitable for factories and can quickly judge the desizing effect.

Quantitative method
The accurate desizing rate can be obtained by quantitative determination of the content of sizing material. This kind of method is suitable for laboratory. The desizing process can be further optimized by comparing the specific desizing rate. Quantitative method to use the instrument of spectrophotometer, constant temperature water bath, oven.
UV-5100 UV-visible spectrophotometer
The instrument adopts 128*64 point matrix LCD display, which can directly display the standard curve and test data, clear display, accurate reading, stable and reliable.

Can continuously test and store 200 groups of data, each screen can display 5 groups
In mode C (standard curve method), multi-point standard curve can be directly established, and the established standard curve can be used to test the concentration of unknown samples
Can store 200 standard curves, according to the number can be arbitrarily called
In F mode (coefficient method), the sample measurement can be directly carried out after the coefficient of the curve equation is input
The measured and stored data has a power off hold function
Wavelength automatic calibration, automatic setting, deviation self-repair
Socket tungsten lamp design, light change without optical adjustment
Equipped with standard USB data output interface and parallel print output interface, convenient online operation and print data
Optional quantitative software can directly complete photometric analysis, quantitative testing and analysis data processing
| | |
| --- | --- |
| Wavelength coverage | 195-1100nm |
| Spectral bandwidth | 4nm |
| Wavelength accuracy | ±2nm |
| Wavelength repeatability | ≤0.5nm |
| Absorbance accuracy | ±0.5%T (0-100%T) |
| Repeatability | ≤0.3%T |
| Stray light | ≤0.1%[email protected],360nm |
| Stability | 0.001A/0.5(500nm after preheating) |
| Light source | Deuterium Lamp,Tungsten Lamp |

Hh-600 constant temperature water bath is widely used in drying, concentration, distillation, impregnated chemical reagents, impregnated drugs and biological products, can also be used for water bath constant temperature heating and other temperature tests, is biology, genetics, virus, aquatic products, environmental protection, medicine, health, biochemical laboratory, analysis room, education and scientific research necessary tools.
Its main characteristics:
Studio water tank material stainless steel, has superior corrosion resistance.
Intelligent light touch operation design, novel appearance, easy to use.
The set temperature is locked by the memory chip, no drift, automatic temperature control is accurate.
| | |
| --- | --- |
| Way of temperature control | Digital display automatic temperature control |
| Temperature range and accuracy | RT-100℃±0.5℃ |
| Resolution | 0.1℃ |
| Heating power | 2KW |
| Dimensions | 60*30*17cm(L*W*H) |
| Environment | -5℃~50℃, 35%~85%RH |

| | |
| --- | --- |
| Capacity | 30、80、130、220L(selectable) |
| Temperature range | RT+10℃—200℃ |
| Temperature fluctuation | ±1.0℃ |
| Temperature resolution | 0.1℃ |
| Environment temperature | ﹢5-40℃ |
| Timer range | 1~5999min/h |
HD101 series electric heating oven is suitable for baking, drying, heat treatment and other high temperature treatment of yarn and fabric. This series of products have the advantages of high temperature control precision, small overshoot, small fluctuation and deviation over temperature protection. In addition, an independent overtemperature protection system can be added according to the needs of users, which can improve the safety performance of the product.
Due to space limitations, more details about the quantitative method for starch and PVA desizing rate will be posted in the next article.