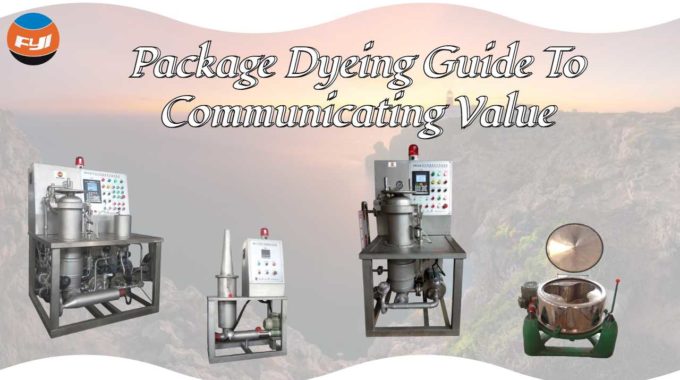 Package Dyeing Guide to Communicating Value
Package dyeing is a most commonly form of yarn dyeing. This is a method of wrapping the yarn around a perforated dye vessel. So it is suitable for dyeing cotton yarn as well as polyester yarn, wool yarn, etc.
Raw Material
At present, the varieties of package yarn dyeing are as follows:
Pure polyester filament and staple fibers such as 42S/3, 50S/3, 60S/3 and 80/3 are dyed with disperse dyes, which have high production efficiency and good quality.
Polyester cotton stick yarns, such as 45S, 28S single yarns, 42S/2 strands, are also very effective in package dyeing. Most of them are dispersed and reduced two-bath dyeing, which is used in yarn-dyed industry.
Polyester viscose blended yarns, mostly medium long fiber, 32S, 32S/2 specifications. However, due to the large swelling of the adhesive fiber part, if it can be shaped, the effect of package dyeing is better.
Cotton package dyeing requires higher requirements for soft and winding than polyester/cotton blended yarn, because pure cotton needs to be boiled, which will shrink and deform the package yarn, so only a few varieties of pure cotton adopt package dyeing.
Structure
Here are necessary machines for package dyeing process.
Loose winding machine
Loose winding package, also known as cross winding package, can reduce the density of package yarn and achieve the purpose of soft yarn layer. The loose winding machine is the main supporting equipment for package dyeing and plays a decisive role in the quality of package dyeing.
DW7060H Lab Winding Machine is used in lab spinning procedure and lab cop dyeing. It is suitable for education, R&D, widely used in lab. In addition, it is also suitable for soft winding & hard winding.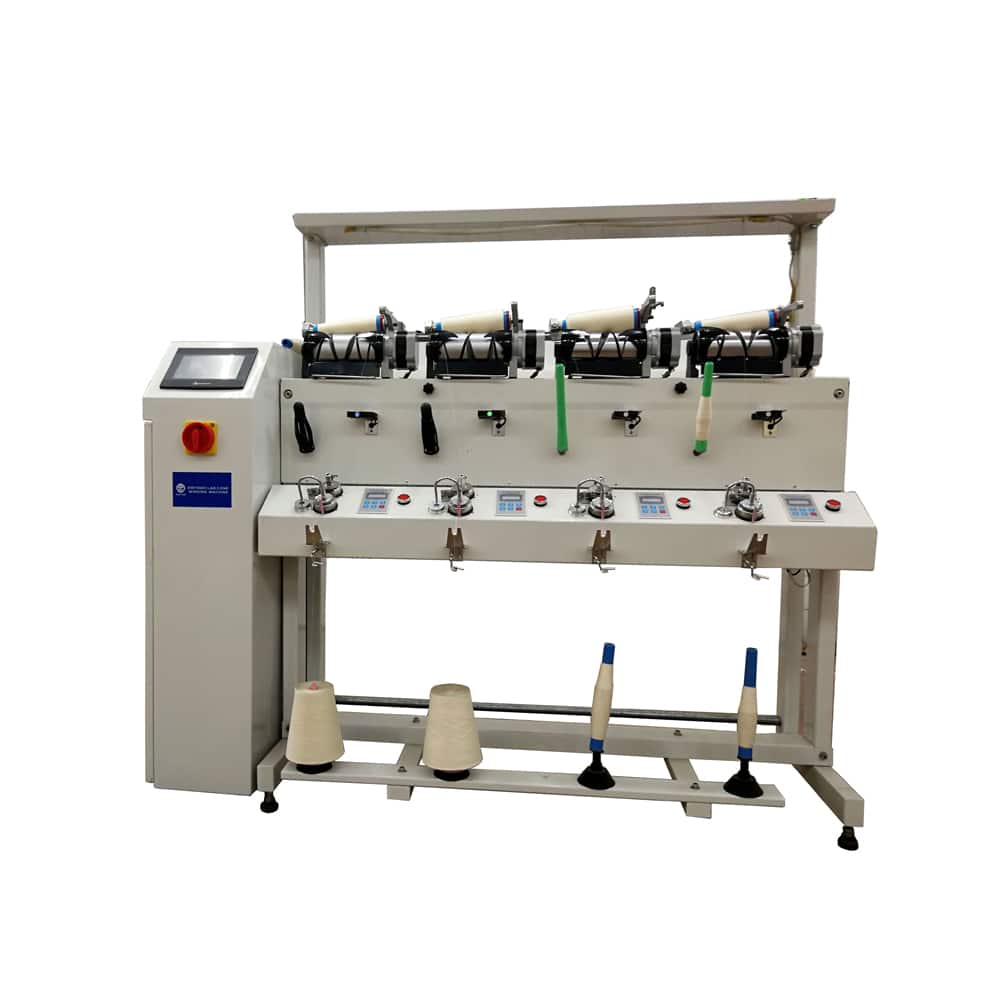 Loose winding machine feature
It can wind the spun yarn from package plastic package to cone package;
The machine is suitable for soft winding & hard winding;
It supports uniform control for all the spindles and individual control for each spindle;
The uniform control is through touch panel, the individual control is through micro-controller.
Driven by brushless DC motor;
The winding speed can be adjusted;
Each spindle has auto-stop function when yarn breaks;
Mini-type design, easy to clean, set and maintain;
Package dyeing machine
Introduction
Package dyeing machine is a kind of Yarn dyeing machine, usually dyeing with high temperature and high pressure, so it also belongs to HTHP dyeing machine. In addition, depending on the demand, the package dyeing machine can also be used in the laboratory, which is a kind of lab dyeing machine.
DW202B/241B Series Package Dyeing Machine is specially-designed dyeing machine used to dye package yarn under high temperature and high pressure. What's more, DW241B is equipped with dye stuff auxiliary supplying system, so suitable for dyeing cotton yarn as well as polyester yarn, wool yarn, etc.
DW202B has one dyeing cylinder. Water and dyestuff are added into the cylinder firstly and mixed evenly. Then place the package yarn into the cylinder. After the heating package starts working, the temperature and pressure in the cylinder will rise and then the package yarn can be dyed effectively in an environment of high temperature and high pressure.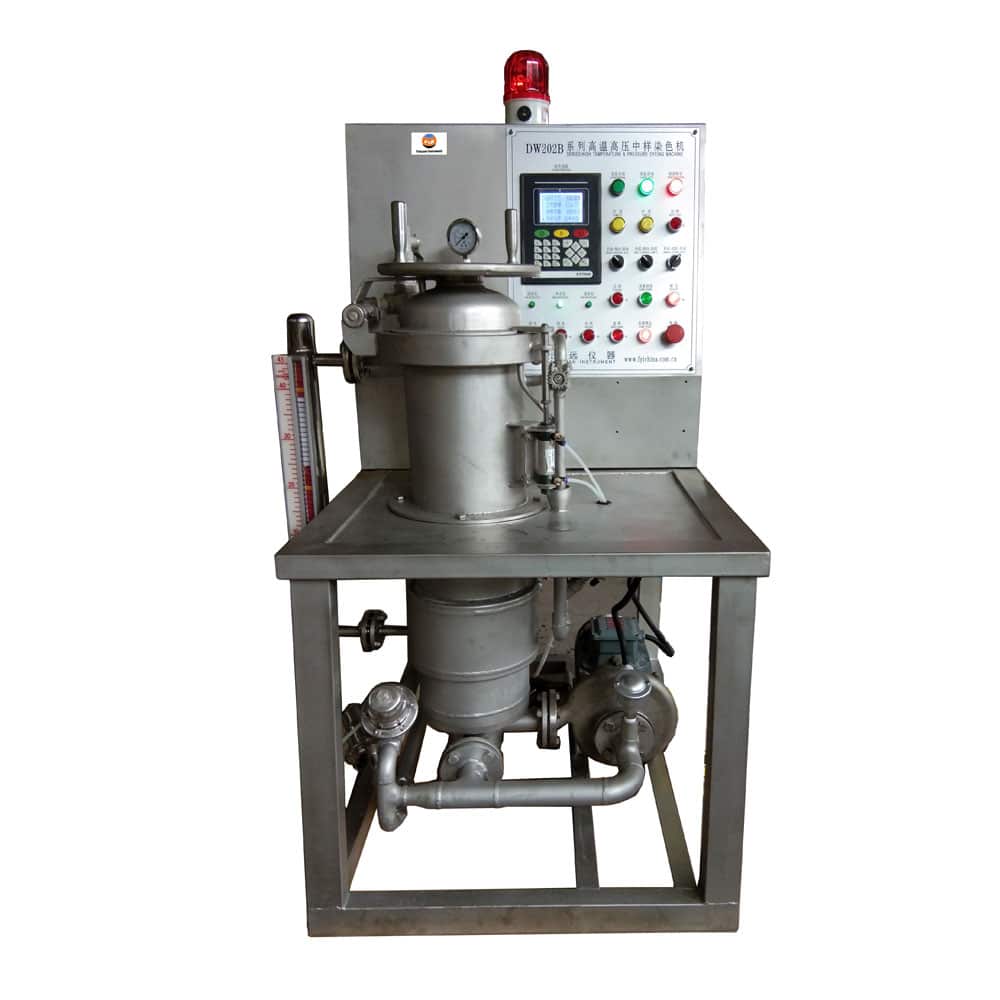 DW241B has an extra service cylinder, connected to the main cylinder. Water and dyestuff are added into the service cylinder and mixed evenly while package yarn is placed in the main cylinder. The mixed dye liquor can be injected into the main cylinder. In the process of dyeing,user can add dye liquor through the service cylinder, no need to open the main cylinder repeatedly, improving efficiency and safety.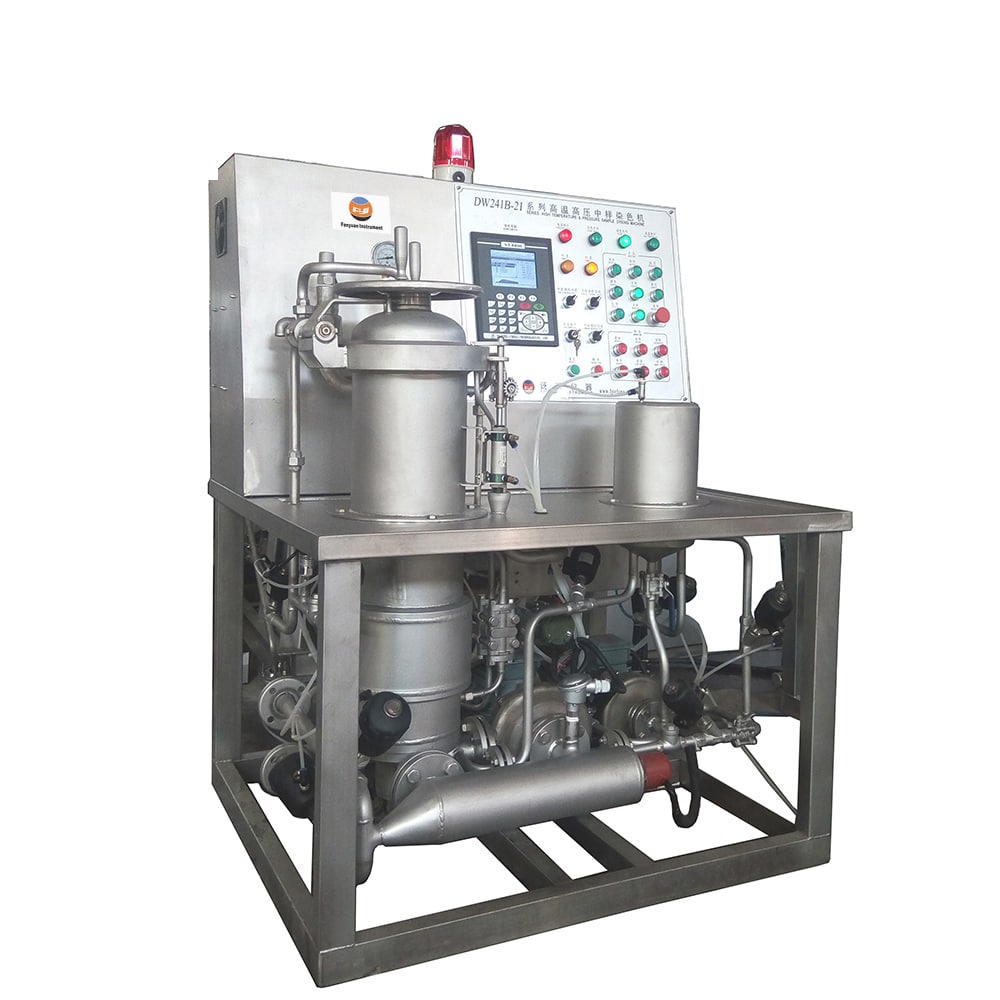 Package dying machine feature
Surface treatment: Stainless steel construction with sand blasting surface treatment. Inner surface of dyeing cylinder use acid etching treatment to protect cylinder against dyes;
Free control of dye liquor flow: The package yarn is placed on the mandril in the dyeing cylinder. So the dye liquor can flow out and back from the holes in the mandril. Internal flow and external flow can be switched freely inside the dyeing cylinder according to the dyeing process.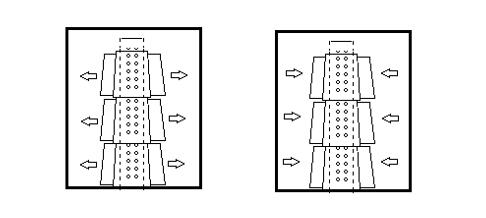 High automation: Dyeing process can be controlled manually or automatically. In addition, the temperature and water level in dyeing cylinder can be preset by dyeing computer. Real-time pressure in dyeing cylinder is indicated by pressure gauge;
High-temperature protection: Opening the lid of cylinder is not allowed when the temperature in dyeing cylinder reaches the preset temperature, such as 85℃.
Water-level protection: The service cylinder of DW241B is equipped with water level sensor to prevent water level exceeding the preset water level, such as high level;
Lock protection: Special cylinder lock can fix the lid of dyeing cylinder to prevent moving in the dyeing process.
Optional heating methods: Dyeing machines with steam heating function are normally suitable for dyeing mills. As for university, institute, etc, we can provide dyeing machine with electrical heating function.
Similarity of DW202B and DW241B Series Package Dyeing Machine
Capacity :1, 3, 5, 12, 25, 35, 56, 108, 162, 216
Working temperature: ≤135℃
Heating rate:From 20℃ to 130℃ (50min)
Cooling rate:From 130℃ to 80℃ (25min)
Heating method: Steam heating or electrical heating(please specify before placing order)
Liquor ratio:1:8~1:10
Air supply:0.6~0.7MPa
Differences of DW202B and DW241B Series Package Dyeing Machine
1.DW202B Series does not have service cylinder, so it does not have functions such as mixing dyestuff and load material.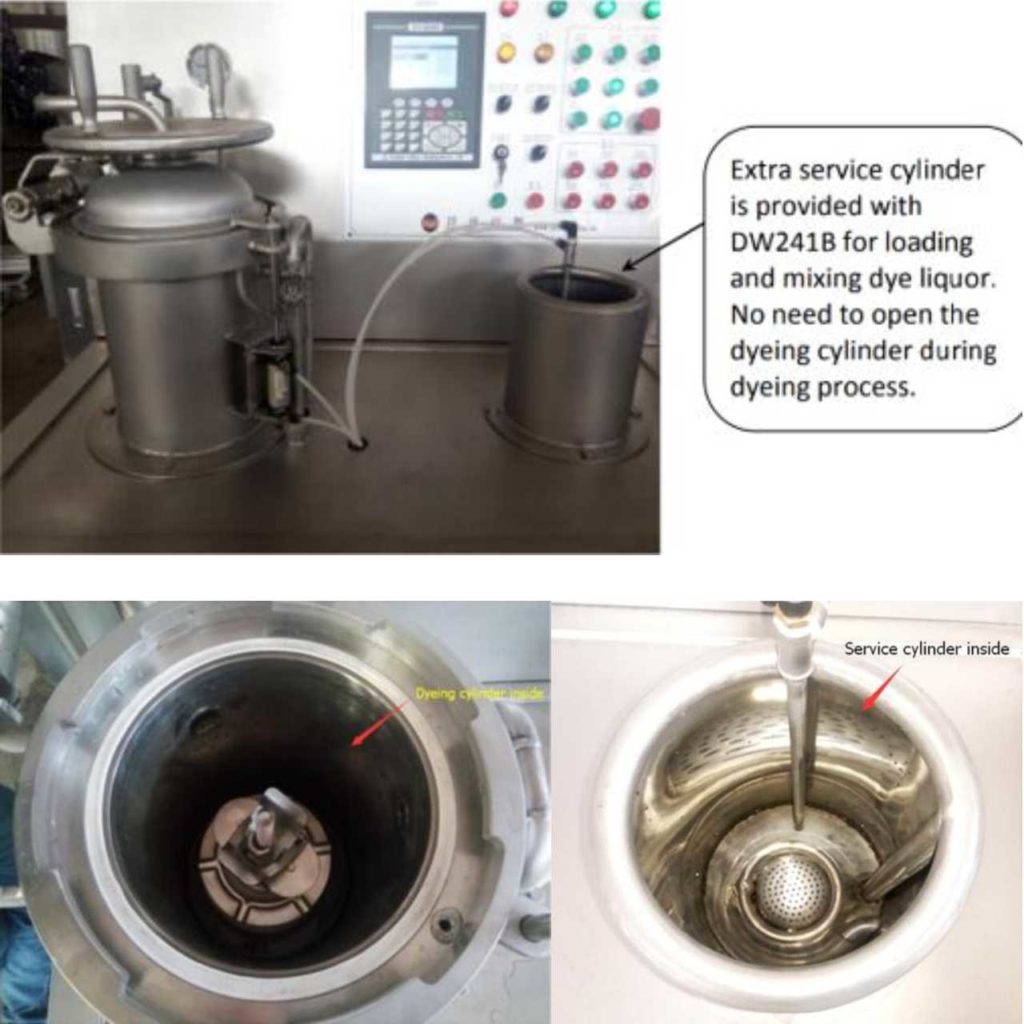 2.Dye computer configuration is different, DW241B computer performance is better.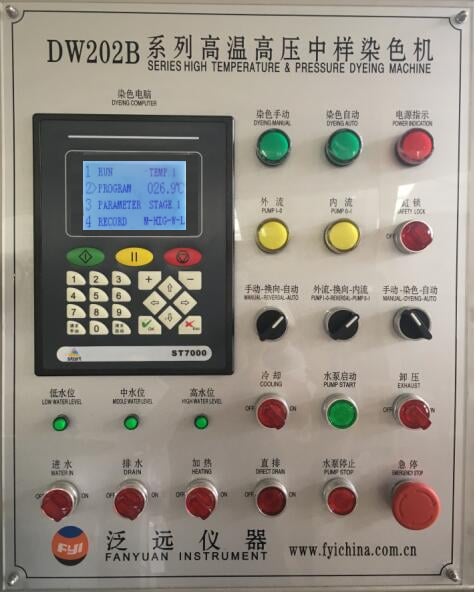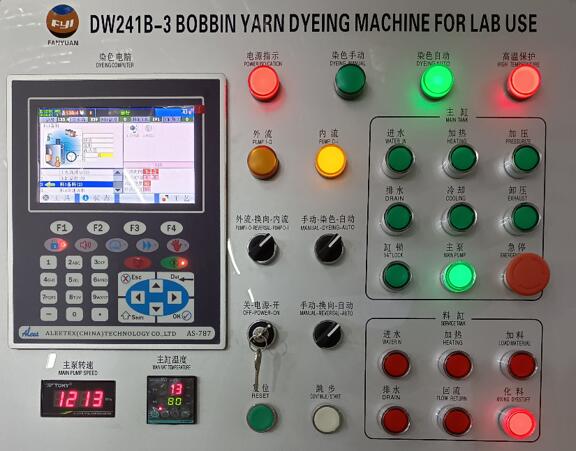 Drying Machine
Neither DW201B nor DW241B can dry package yarn in the end of dyeing process, so our QRTC3 Centrifugal Water Extractor and MF-3 package Yarn Drying Machine are essential if customer need to dry package yarn after dyeing.
QRTC3 Centrifugal Water Extractor is used to dehydrate package yarn after dyeing. It is applicable for cotton yarn, polyester yarn, wool yarn, etc.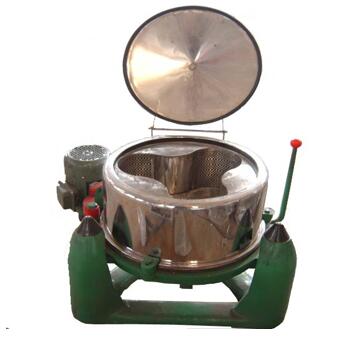 MF-3 Package Yarn Drying Machine is used to dry package yarn after dyeing and dehydrating. It is applicable for cotton yarn, polyester yarn, wool yarn, etc.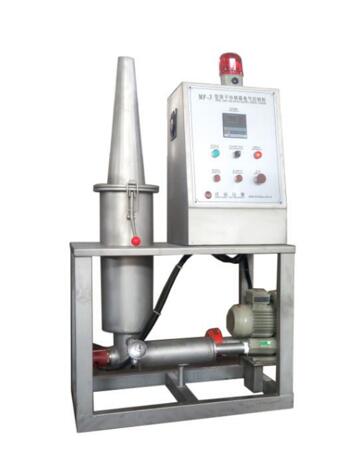 Winding machine
After dyeing, if customer want to sell the bobbin yarn to market, tight winding machine must be used to make the bobbin yarn tight, then it can be sold to market. Our DW7060H Cone Winding Machine is essential if customer need to wind the yarn.It is suitable for soft winding & hard winding. In this way, two processes, loose and tight, can be realized.
Package dyeing process
Process
Package yarn → filling yarn → cylinder feeding → pre-treatment → dyeing → post-treatment → cylinder unloading → drying → unloading yarn→ knitting
Discussion of technical conditions
Before dyeing, different pretreatment processes are selected according to the raw materials of the treated simple yarn, which not only helps to maintain the unique properties of pure cotton, polyester and polyester cotton yarns, but also improves the dyeing quality, shortens the process flow, reduces the raw materials and energy consumption, and improves labor productivity.
Dyes and auxiliaries must be dissolved and filtered into the machine and dyed according to the requirements of the process curve.
With additional air pressure, we stipulate that it is greater than 5×104Pa, which is conducive to uniform penetration and circulation of the dye solution. At the same time, a cycle from inside to outside and from outside to inside can be completed under the condition of feasible operation, so as to ensure the consistency of dyeing of each layer of cheese yarn.
Post-treatment: due to the particularity of the finishing of bobbin, we reformed the post-treatment process, that is, when the simple yarn is washed after dyeing and washing, we applied pressure to prolong the soft treatment time and improved the technological formula. After treatment, the package yarn felt hard and the hair defects on the surface were significantly improved, which met our quality requirements.
Drying, drying process also directly affect the quality of yarn quality. The drying time is too long, the temperature is too high and the color yarn is dry and hard, the time is too short, the inner and outer layers should be dry and wet, affecting the quality of the color yarn.
Advantages and disadvantages
Advantages of package dyeing
Package dyeing can simplify the process and improve the quality of colored yarn. As the process is simplified, it can reduce the phenomenon of color flowery, random yarn and broken yarn. For example, the dyeing quality of polyester cotton stick spinning package yarn is better than Hank yarn dyeing.
Save manpower, can greatly improve labor productivity.
Save the special and auxiliary equipment of scouring and bleaching, reduce the area of land, save the investment of factory construction.
Package dyeing can fundamentally change the working conditions of dyeing workshop. What's more, it can reduce fog and water on the ground, which is a long-term difficult problem in Hank dyeing workshop.
Disadvantages of package dyeing
Color difference between inside and outside of package yarn.
The equipment investment cost is large, because the high temperature and high pressure dyeing machine is made of stainless steel. And the automatic control device should increase the equipment investment.
The consumption of electricity is more than that of Hank yarn, and the installed electricity of package yarn equipment is nearly twice as high as that of Hank yarn, mainly in the drying of package yarn.
After dyeing, the washing effect of package yarn is worse than Hank yarn dyeing, and the water quality is higher.
The range of use of dyes is not wide, such as Naftol dyes, generally do not use package dyeing.