Melt Spinning Development and Melt Spinning Machine
Introduction
Melt spinning, is a forming method using polymer melt as raw material (similar to plastic extrusion) and melt spinning machine (similar to plastic extruder). The melt spinning method can be used for spinning any polymer that can melt or change into a viscous flow state without significant degradation. When melt spinning, the bulk polymer is fed into the spinning part after melting in the screw extruder. And then quantitatively fed into the spinning component through the spinning pump. After filtering, the bulk polymer is extruded out from the capillary hole of the spinneret. The liquid filament solidifies gradually through cooling medium, and then is stretched into a filament at high speed by the winding device at the bottom. The filament is a primary fiber, and the primary fiber is processed into a fiber
Melt Spinning machine use the melt spinning pump continuously and evenly from the spinneret holes medium voltage, spun silk in long channel by air or water bath solidified into filaments. General melt spinning USES screw extrusion to produce melt pressure, through metering pump to achieve uniform spinning.
Melt Spinning process
Melt spinning consists of material melting, extruding from the nozzle and then cooling and solidifying. The basic types of melt spinning are shown in figure 1 below. Polymers are usually dry particles or slicing feed extruder, after squeezing molten forward to metering pump metering pump control and ensure the stable polymer melt flow into the spinneret, the extrusion of the trickle HengChui wind rapid cooling, curing, and winding. And in the process of winding, because of the pre-stretching of the guide rolle. It can play the role of drawing long filament. The main process parameters of melt spinning are extrusion temperature, winding speed, cooling condition of spinning, shape and size of spinneret hole, etc.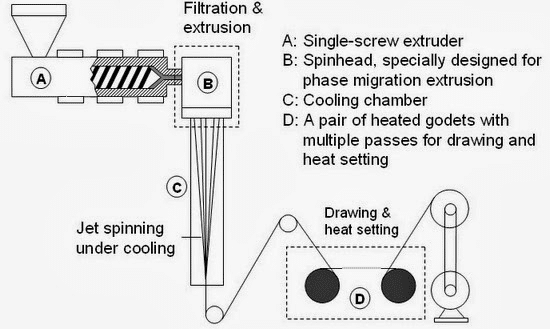 Important of Melt Spinning process
Melt spinning forming is an important prcoess in fiber manufacturing, which directly affects the difficulty of post-processing and the quality of finished products. In order to make a coil wire with high viscosity melt and have good drafting performance. The internal stress on the solidified filament must be especially low to give low orientation. The measures for its implementation is below the spinneret unit heater, passing a above 300 ℃ in air flow. It is best to inert gas (N2, CO2, etc.), at a slow cooling, make left spinneret strips must be kept in a plastic state until the final fiber diameter is reached.
Different types of melt spinning machine
DW7090A  is used for spinning chemical fiber by melting polyester chip.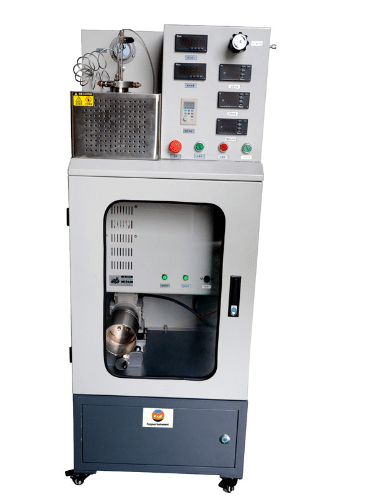 With a see-through organic glass door, convenient for observation;
The feed cylinder made of thickened 316 stainless steel, making heating more uniform;
The temperature of material is monitored in real time, with highest heating temperature up to 400℃, accurate controlling accuracy of ±0.5℃;
Extensible structure, can add melt pump, mixing function, etc
DW7090D Melt Spinning Machine is ideal for simulating site production in small batch production trials.  Melt spinning Equipment suit for Pitch research. It is a ideal small mass machine for lab use .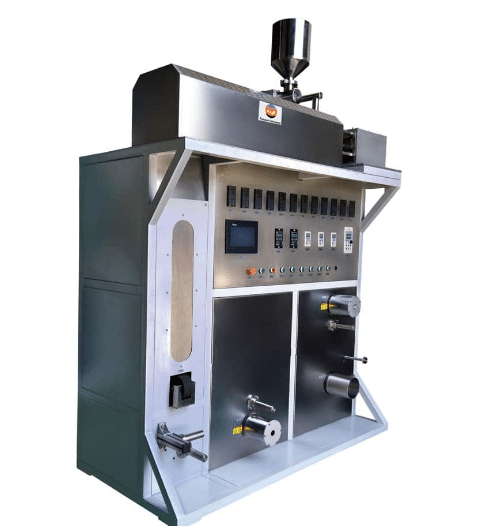 DW7090E Melt Spinning machine is an ideal chemical fiber spinning machine for teaching use.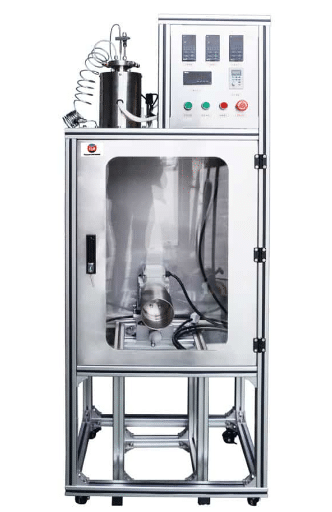 Electricheating system;
Meltingmaterial is controlled by pressure sensor and temperature sensor;
The kettle body is made of 316L stainless steel, making heating more uniform;
Equipped with a large see-through glass door, convenient for observation.
If you want to know more detailed about the price or Melt spinning and advantage of melt spinning machine etc.. Please send email to [email protected] .